Tungsten Wire Application - Halogen Tungsten Car Lamp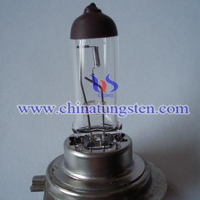 Tungsten wire application is filament of halogen tungsten car lamp. Halogen tungsten car lamp is that initial configuration of car headlights is a halogen lamp, which looks very comfortable, warm yellow light, it is mainly used in the automotive headlight, including low and high beam lights, or distance one lamp, it has good lighting and brightness.
History:
Halogen lamps began to be applied to the automobile was in the seventies, and its light-emitting principle is very similar to that of the ordinary incandescent. After the heating of tungsten lamp in spiral, then it lights, its luminous intensity is limited by the melting point of tungsten itself. Generally, in order to improve the brightness of halogen lamps, it is not only to increase the number of resistance of tungsten, but also improve tungsten melting point. Since tungsten halogen lamps has a higher melting point than ordinary incandescent lamp, so its brightness is greater than the latter.
300W Halogen Tungsten Lamp:
The consume power of 300W halogen tungsten lamp is 0.3 degrees per hour, this is the theoretical power consumption.The main applications are home decorating lighting facilities, hotel rooms, corridors, parks, shopping malls, shops, showrooms, entertainment, matching lamps.
If there is any interest in tungsten wire, please feel free to contact us through the following methods.
Email: sales@chinatungsten.com
Tel.: +86 592 512 9696/+86 592 512 9595/+86 592 512 7878
Fax:+86 592 512 9797
More info>>
1.Catalog of tungsten wire
2.Quotation table of tungsten wire