Tungsten Wire Application - Halogen Tungsten Lamp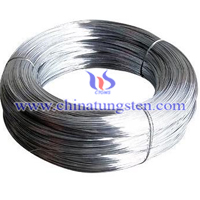 Tungsten recrystallized structure can form a good lap dovetail structure, so it is often used as a tungsten filament for halogen tungsten lamps. It has a good high-temperature strength at high temperature with high temperature anti-sag properties and good resistance to deformation and other good performance. In the non-ignition condition, its temperature strength under normal temperature is high, extending the service life of halogen lamps. Improve high temperature anti-sag performance.
Power of halogen lamps include 5W, 10W, 15W, 20W, 25W, 30W, 35W, 40W, 45W, 50W, 60W, 70W, 100W, 150W, 200W and 250W and others. Working voltage are 6V, 12V, 24V, 28V, 110V and 220V other. The shape of lamp holder include screw-on cap (E10, E11, E14, etc.), plug-in (GU5.3, GX5.3, GY6.35, GZ4 and G8, etc.) and direct-drop. Cup diameter include 25mm (MR8), 35mm (MR11) and 50 mm (MR16) and other types. Reflection angle include 8°, 10°, 12°, 20°, 24°, 30°, 36°, 40° and 60° and others.
Characteric:
Halogen tungsten lamps can make dazzling color of the object. Halogen is especially popular because it can make the object surface color and more vivid. As the volume is very small and light and it has full of different specifications, providing great creative space from narrow to wide. On the aspect of economic, the halogen tungsten lamp has good prospects for development. For example, an incandescent lamp consumes 75W of power to achieve 960 lumens, but halogen only about 50W.
If there is any interest in tungsten wire, please feel free to contact us through the following methods.
Email: sales@chinatungsten.com
Tel.: +86 592 512 9696/+86 592 512 9595/+86 592 512 7878
Fax:+86 592 512 9797
More info>>
1.Catalog of tungsten wire
2.Quotation table of tungsten wire