Tungsten Granule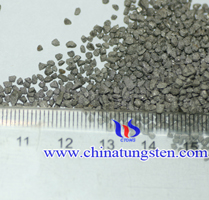 Tungsten Granule Introduction
Tungsten granule is made of pure tungsten material with irregular particles. Tungsten granule is also called tungsten flux, tungsten accelerator, and tungsten granulate. The purity of tungsten granule can reach 99.90% or 99.95%min. The color of tungsten granule is metal bright. Tungsten granule is mainly in welding rod, carbon sulfur analysis, weight filler, radiation shielding filler,welding fitting, induction accelerator, etc.
Most Popular Sizes of Tungsten Granule
The most popular size of tungsten granule is -20~+40mesh.

Tungsten Granule Sizes and Method to Order
Commodity

Size(mesh)

How to Order

Tungsten granule/flux

-10~+20

Order

-20~+40

-40~+60
Tungsten Granule Application
Tungsten granule is widely used as carbon sulfur analyzer, sulfur analyzer, and the machine is also called CS analyzer, C&S analyzer. With its property of high density, tungsten granule can be oxidized under high temperature, and emits heat, which will show its high heat and quick response. Tungsten granule, as flux in analyzing carbon and sulfur analyzing, decrease boiling point of combustion and speeding the emitting of carbon and sulfur effectively. Tungsten granule can also be weight filter for its irregular shape and high density, and can be used as fitting parts for welding for its electrode property.
Tungsten Granule Abstract Manufacturing Process
Tungsten granule are made through powder metallurgy, and going through processes of pressing, sintering, swaging, crushing, removing shape edge.

Tungsten Granule Packing
Regular packing of tungsten granule is 2kgs/2.5kgs in a plastic bag, and vacuumed. Almost Chinatungsten packs 20bags in a drum. For the saving of delivery cost, the outer packing may be paper box if the quantity or gross weigh is not so heavy, which paper box could bear the weight. Tungsten Granule Marking Chinatungsten sticks its packing list with the information of commodity, lot no, size, quantity, N.W, G.W and contract no. If there, the PO no and other information will be marked on the packing list.

Tungsten Granule Delivery
Chinatungsten always deliver its tungsten granule by TNT, DHL, FEDEX when gross weight is under 45kgs, between 45kgs~1000kgs, deliver by air, and over 1000kgs by sea. But there are some special points, such as 30kgs to Taiwan by air would be economical than by express. One point to be assured is that Chinatungsten will calculate all the cost and provide the most reasonable one for clients.

Customized Parts for Clients
If the tungsten granule size is beyond what we stated above, or the packing is not matched your requirement, or the marking should be specialized, kindly contact us with following contact methods for further discussion. Chinatungsten will try its best to provide reasonable and acceptable parts for clients.

Chinatungsten Contact Information
Email:sales@chinatungsten.com
Tel.: +86 592 5129696/5129595/5127878
Fax:+86 592 5129797
More info>>