Tungsten Granule Size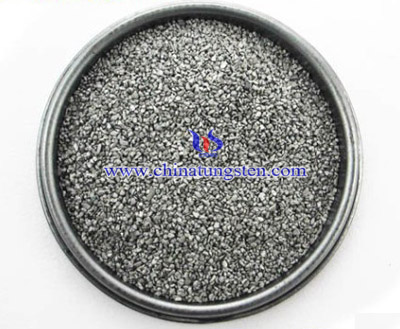 Popular tungsten granule size used for CS analyzer is 20-40mesh, 40-60 mesh, and 10-30 mesh.
Mesh is to describe wire mesh specification, which is the hole numbers on 1 inch or 25.4mm. MM is the standard length unit. Actually, these two units do not have exact equal relations. But there is a similar matched table for them.
| | | | |
| --- | --- | --- | --- |
| Size (mm) | Size (mesh) | Size (mm) | Size (mesh) |
| 4.75 | 4 | 0.425 | 40 |
| 4.00 | 5 | 0.355 | 45 |
| 3.35 | 6 | 0.300 | 50 |
| 2.80 | 7 | 0.250 | 60 |
| 2.36 | 8 | 0.212 | 70 |
| 2.00 | 10 | 0.180 | 80 |
| 1.70 | 12 | 0.150 | 100 |
| 1.40 | 14 | 0.125 | 120 |
| 1.18 | 16 | 0.106 | 140 |
| 1.00 | 18 | 0.090 | 170 |
| 0.850 | 20 | 0.0750 | 200 |
| 0.710 | 25 | 0.0630 | 230 |
| 0.600 | 30 | 0.0530 | 270 |
| 0.500 | 35 | 0.0450 | 325 |

If you have got any interest in tungsten granule, please feel free to contact Chinatungsten.
Email:sales@chinatungsten.com
Tel.: +86 592 5129696/5129595/5127878
Fax:+86 592 5129797
More info>>