Tungsten Electrode Application - Stainless Steel Pipe Welding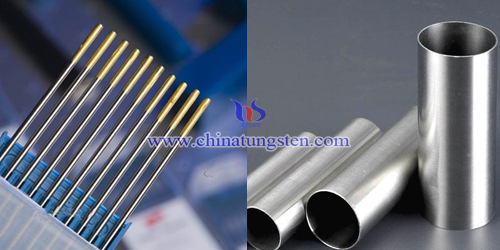 Tungsten electrode application is stainless steel pipe welding. Tungsten base is added about 0.3% -5% of the rare earth elements such as cerium, thorium, lanthanum, zirconium, yttrium through powder metallurgy method, and then after pressure processing. Diameter is from 0.25 to 6.4mm, standard length is from 75-600, and the most commonly used standard diameter is 1.0,1.6,2.4 and 3.2 and so on.
The main stainless steel pipe welding method is:
MMA, metal arc welding (MIG / MAG), tungsten inert gas welding (TIG).
Maunfacturing Process is:
Raw materials - slitting - welding pipe - repair the ends - polishing - test (printing) - packaging - shipment(decorative pipe).
Between the wire and the workpiece, shielding gas generally use pure argon, the welding wire which is uncharged, it can also be sent by a mechine, there is no need to send into the wire for some specific applications. When using direct current, tungsten electrode is set to negative, because it has a deep penetration capability, which is suitable for different types of steel.
If there is any interest in tungsten electrode, please feel free to contact us through the following methods.
Email: sales@chinatungsten.com
Tel.: +86 592 512 9696/+86 592 512 9595/+86 592 512 7878
Fax:+86 592 512 9797
More info>>